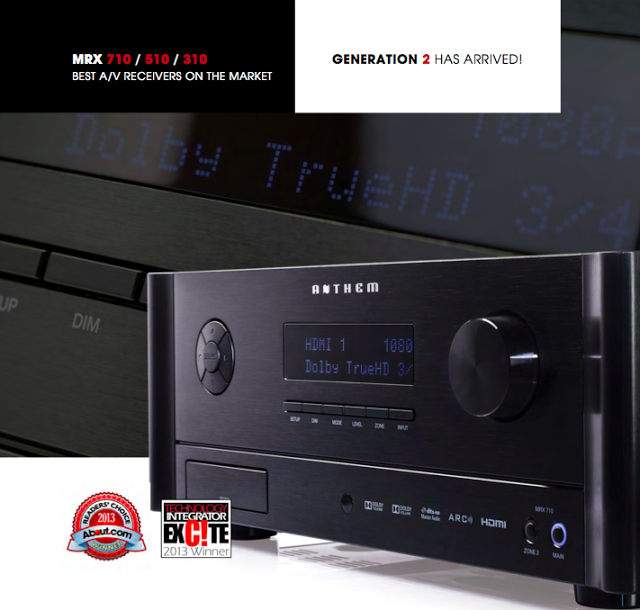 Anthem, a name well-known in both the home theater and audiophile community, has announced three new receivers at the CEDIA expo in Denver.
The three new receivers, the MRX710, MRX510, and MRX310. The specs on the new receivers are:
MRX 710 20 W (2 channels driven), 90 W (5 channels driven)
MRX 510 100 W (2 channels driven), 75 W (5 channels driven)
MRX 310 80 W (2 channels driven), 60 W (5 channels driven)
The MRX 710 and MRX 510 are seven-channel receivers and the MRX310 is a 5.1 system. Anthem continues to be a refreshing example by publishing real world specs of their amplifiers with performance from 2-channel to all channels driven. The most notable features of the new generation 2 receivers are:
New ARC 1M: Anthem's proprietary room correction now connects via either net, has better performance, and allows you to print before and after results.
7 HDMI inputs on the back and one on the front for the MRX710 and MRX510. The MRX310 lacks the front HDMI port.
Dual HDMI outputs
4k scaling and HDMI pass-through
Faster HDMI switching
Your choice of IP or RS-232 control
Dual speaker configuration
Digital music option for zone 2 via optical and coax
Option to biamp left and right speakers on the MRX710 and MRX510.
Lower power consumption in standby (less than 0.3 W)
Anthem's ARC 1M is still not at the level of Anthem's dedicated pre-pros, their flagship D2v 3D and 50v 3D, but it's an improvement over the previous generation's room correction.