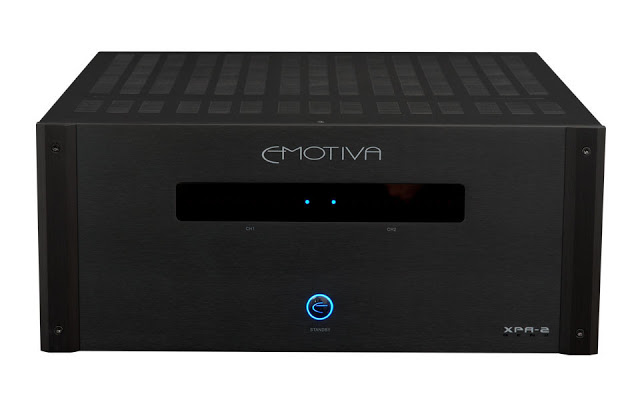 Emotiva has garnered a reputation in the audio and home theater community for no-frills amps that offer great bang for the buck. Their product line starts at a modest 50wpc and goes all the way to 1000watt monoblocks. At the heart of any company's amplifier offerings are their stereo models. Emotiva has just revamped their XPA-2 stereo power amp with added a number of enhancements.
On the outside, the XPA-2 features a sleeker look than its predecessor. Under the hood, Emotiva has bumped up the power from 250 wpc to 300 wpc. The new XPA-2 also boasts a monoblock mode, which will allow the XPA-2 to push an incredible 1000 watts into 8 ohms. Monoblock mode is as easy as flipping a switch. Emotiva has positioned the XPA-2 as a way for performance-seeking audio enthusiasts to move into an XPA-2 and then add a second for a dual monoblock configuration on their mains.
Emotiva also says that the updated XPA-2 features a "refined" differential input with a short signal path in the Class A/B topology that Emotiva claims delivers a "stunningly low noise floor, so that details of your music emerge from a deep black background." Other enhancements include solid machined gold plated RCA jacks, high quality gold plated contact toggle switches, a sleeker look, and a new high strength precision chassis.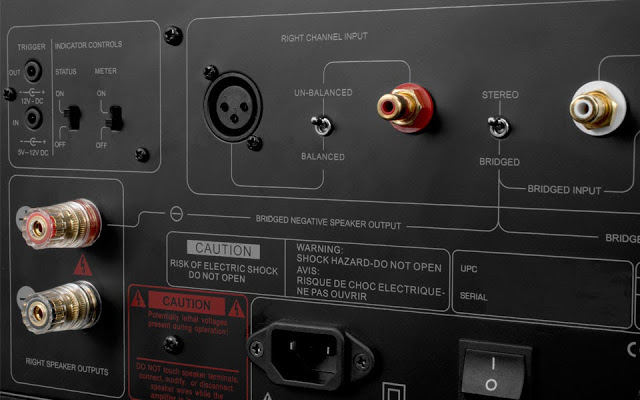 The updated XPA-2 features an updated design, a short signal path, gold plated RCA jacks, gold plated toggle switches, and a new chassis.
To further entice people, Emotiva is including $100 worth of EMO bucks with the purchase of the XPA-2. The $100 in EMO bucks can be used on your next Emotiva order.
Is the new XPA-2 right for you? At $899, it's not cheap, but you'll be hard pressed to find a true 300wpc stereo amp for that price. That's only $450 per channel at 300 watts of power! If you're in the market for a new amp, you may want to take advantage of Emotiva's 30 day in-home trial. Shipping is free and if you want to return the unit, you get a full refund but only pay for the return shipping. You can learn more at: http://shop.emotiva.com/collections/amplifiers/products/xpa-2-gen-2
XPA-2 Features
Refined and optimized dual differential Class A/B topology.
Stereo Mode and Mono-Block Mode for exceptional flexibility.
New precision engineered chassis w/ solid 15mm milled aluminum faceplate Automatic 120/230 AC voltage detection and switching.
High-speed Multi segment bar graph output level meters with clip detect.
Metering and status LED on/off switches.
Fully protected from all fault conditions.
Soft start circuitry.
Advanced microprocessor operating system.
External trigger turn on and trigger output.
Soft touch power switch.
Input: balanced (XLR) and unbalanced (RCA), switchable.
High current match pair on semi output devices.
Heavy duty Audiophile quality gold plated 5 way binding posts.


XPA-2 SPECIFICATIONS
Number of channels: 2 (stereo mode), 1 (monoblock mode)
Topology: fully discrete, highly optimized dual differential, high current, short signal path Class A/B with premium components throughout
Power output (all channels driven):
1000 watts RMS @ 8 ohm (Mono-Block mode)
500 watts RMS per channel @ 4 ohm (0.12% THD)
300 watts RMS per channel @ 8 ohm (0.07% THD)
Rated power bandwidth: 20 Hz to 20 kHz +/- 0.07dB
Broadband frequency response: : 5Hz to 100kHz, +0 -3dB
Amplifier gain: 29 dB
Signal to Noise Ratio:
1 watt: > 97 dB
Full power: > 121 dB
Input impedance:
unbalanced: 23.5kohms
balanced: 33 kohms
Power supply: 1,200VA toroidal transformer with 45,000uF low ESR storage capacitance
Size:
unboxed: 17" wide x 7 3/4" high x 19" deep
boxed: 23 1/2″ wide x 12″ high x 24 3/4″ deep
Weight: 72.6 lbs (83.5 lbs boxed)