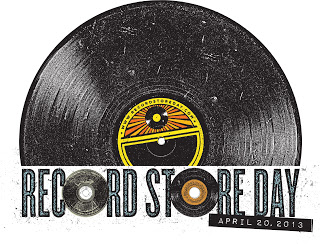 If the story is true, 1,200 high school kids were given a survey and not one had ever been to a stand-alone record store. Whether that's a bad thing or simply a sign of the times, the reality is that stand alone record and music stores are becoming increasingly scarce.
An independent record store employee named Chris Brown came up with the idea to celebrate the art of music on a specific day and in 2007 Record Store Day was officially founded and takes place annually on the third Saturday of April each year. This year, it will take place on April 20, 2013.
It's now a global celebration with hundreds of record stores and artists supporting the effort with performances and meet and greets. There's a web site at http://www.recordstoreday.com dedicated to the event as well as a Facebook page: http://www.facebook.com/RecordStoreDay.
It's great to see the organizers of Record Store Day embracing modern technology. You can download the official Record Store Day app for iOS or Andriod here. The app will help you locate record stores around you; connect with others; and keep you updated with store news, events, promotions and contests. If you're not a smart phone users but you'd like to show your support of the event, you can find a participating store from the Record Store Day web site.
Record and music stores are certainly a unique experience. Part of the experience was the ability to browse artists and genres, experience the artwork and artistry of the album cover, have the ability to interact with others browsing the same sections. In a word, the record store experience was a social experience. There was something special and different going to a record store with friends, talking about the music, coming across albums and artists.
Alas, those days have slowly faded but there's an opportunity to help those memories and experiences live on for future generations. Perhaps John Mellencamp put it best when he said, "Immersing yourself in the environment of a real record store where music is celebrated and cherished adds real value to the experience of buying music. In some ways, that retail experience is as important as the music."
So what are you waiting for? Mark April 20th on your calendars and join in. The countdown to Record Store Day has begun!