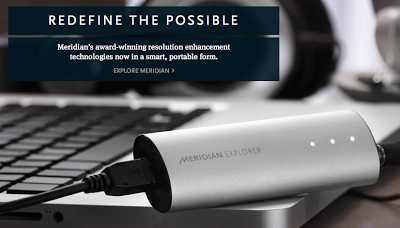 With the introduction of the Explorer, Meridian has put itself in the increasingly crowded space of USB DACs that replace your computer's internal sound card with an external, higher quality digital to analog converter. The Explorer features Meridian's high quality audio circuitry and has a sleek design that has Meridian's signature curves and style all over it. At $299 it's not the cheapest USB DAC on the market. But, it's now possible for the average audiophile to sample some of Meridian's legendary sound quality.
The Meridian Explorer USB DAC
and Headphone Amplifier
The Meridian name is well-known in the ultra-high-end world of audio. Their speakers and components are the stuff dreams are made of. So when a high powered company like that makes a USB DAC and headphone amplifier in the budget range of poor audiophiles, that is something to make note of.
Tweets by @PoorAudiophile
!function(d,s,id){var js,fjs=d.getElementsByTagName(s)[0];if(!d.getElementById(id)){js=d.createElement(s);js.id=id;js.src="//platform.twitter.com/widgets.js";fjs.parentNode.insertBefore(js,fjs);}}(document,"script","twitter-wjs");