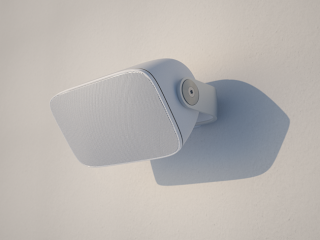 I would never have expected B&W, one of the most prestigious names in high-end audio to develop outdoor speakers. Given B&W's high-end pedigree and the fact that it sells its top of the line Nautilus speakers for $60,000/pair these outdoor speakers at only $300 seem like a bargain.
AM-1 for great sound, whatever the weather | Bowers & Wilkins | B&W speakers
If you're looking for audiophile quality outdoor speakers, these B&W are probably a great solution; however, if you're looking for outdoor speakers that will likely give you great sound and also be a true poor audiophile bargain, then check out the Boston Acoustics Soundware 4.5 inch indoor/outdoor speakers. They speakers come in white, black, and charcoal grey or silver. They sell for $99.99 but now you can pick up refurbished units for 65% off for only $34.99 at Accessories4Less. The Silver versions are a bargain at only $24.99.