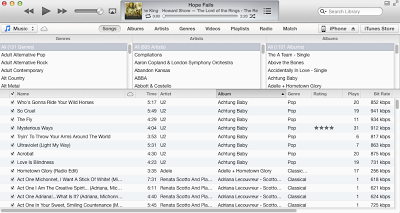 Earlier on Saturday morning, I knew I just wasn't going to have time to cleanup my iTunes library properly anytime soon or in the future. My library had ballooned to almost 11,000 songs after I started digitizing my long-standing CD collection a year ago.
My problems were varied: I was missing album artwork that was there at one time, compilations were scattered, and songs were orphaned. CD sets like Lés Miserables were scattered into different groupings and what was really frustrating was having a single CD–for example the soundtrack of Robinhood Prince of Thieves–and it would be split into two by composer. I'd been eying software that would auto-clean my library and correct all these anomalies. From what I'd read, these solutions worked.
Earlier this week, I my eye had seen a deal for Tunes Cleaner by Leawo Software that was discounted to $10. Tunes Cleaner still seems to be available for $9.99 in the Mac App Store here. After poking around and reading some reviews, I decided against going with Tunes Cleaner. Even though a 66% discount was appealing, I did't want to take a chance with my library. I then read up on both RealNetworks' Rinse My Music and TuneUp.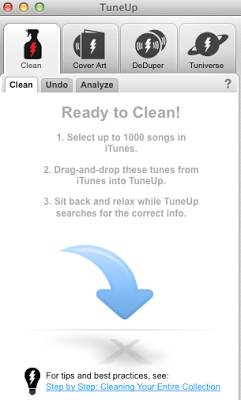 I downloaded both demos and gave them a try within their limit of about 50 fixes (I had nearly 3,000 problems in my library (about 1/4th) I needed to address). Within a few minutes, I saw that TuneUp was a superior product for my situation. It worked better and was integrated into iTunes upon launch.
Then, when I got a discount coupon, I decided to purchase TuneUp. In a matter of about 20-30 minutes in mini-spurts of 5 minutes, I was able to cleanup all the anomalies that could be cleaned up. My iTunes library finally has completed artwork and consolidated albums and artists.
I'll blog about TuneUp later and give some tips and tricks that made it incredibly easy to cleanup the entire library. What was best about TuneUp is that it scans the entire library and creates a custom playlist of all problematic material. You can then process only those problems and presto! You won't believe that you now have a functional library.
You can purchase TuneUp with a 15% discount by clicking on this link here and entering in the promo code you'll see at the link: http://tuneup.tellapal.com/a/clk/1MrVs3
Whether you chose to go with TuneUp or another product, I'm very impressed with where the technology is today; and, more importantly, these solutions are very affordable, will save you hours of work, and ensure that you'll have an organized digital music library going forward.